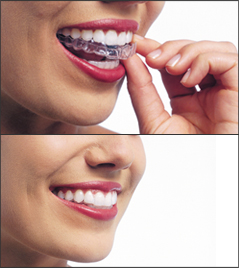 Having crooked teeth can prevent you from smiling as much as you'd like. After all, your smile is the first thing people see. So, what do you do to fix those flaws? Whether your teeth are crowded, too far apart or have shifted, Invisalign invisible braces may be right for you. But there is no way to tell without the help of a dental exam.
Upon an initial examination, your dental professional will come up with a treatment plan and an impression of your teeth will be taken in order to customize your first set of aligners. These aligners will move your teeth gradually week by week until you achieve the smile you have always desired.
An Invisalign treatment consists of a series of nearly invisible, removable aligners that you change every two weeks for the next set of aligners. Each aligner is individually manufactured for your teeth, and your teeth only. As you replace each aligner, your teeth will move – little by little, week by week – until they have straightened to the final position.
Unfortunately, not everyone is able to use Invisalign. Those with minimal amount of straightening are the most ideal candidates. Those with major work needed may need to stick to the traditional versions as they are the most effective with these cases.
If you're ready for a smile that transforms your appearance, Invisalign is your answer. Although there are many choices out there, no other treatment works as comfortably as Invisalign. And if you are eligible for this treatment plan, Invisalign is the best way to transform your smile without interfering with your day-to-day life.
For more information about Invisalign invisible braces, call Dr. Cohen in Palm Beach Gardens, FL at 561-691-0020 or visit www.pbcperio.com.
Dr. Cohen proudly accepts patients from Palm Beach Gardens, Jupiter, Tequesta, North Palm Beach, Palm Beach and Singer Island and all surrounding areas.